FIFA 2011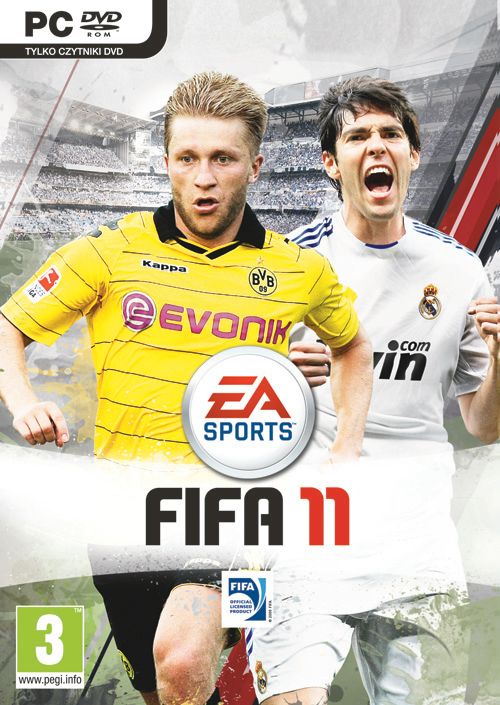 Info:
FIFA 11 reinvents player authenticity – on and off the ball – for every player and at every position on the pitch with Personality+, an all-new feature that sees individual abilities reflected in game, enabling clear differentiation for every player.

With Personality+ a footballer's abilities on the pitch is mirrored authentically in game, creating individual personalities. Players will be distinguished from one another through a sophisticated database that evaluates and grades each player's skill-set over 36 attributes and 57 traits, compiled by 1700 scouts around the world. Real Madrid's Kaka will deliver crisp, creative passes, Barcelona's Andres Iniesta will utilize tighter turns and close control to dribble through defenses, Manchester United's Wayne Rooney will hold off defenders and strike shots from distance with pace, and top-flight defenders like Giorgio Chiellini of Juventus will anticipate, predict and react to offensive players to win back possession.

Goalkeepers have also been injected with Personality+. The real-life personality of the keeper, whether acrobatic or traditional, will dictate his style in game. Dive attributes will determine the keepers with the ability to reach for further shots while reflex attributes determine reaction times, so a keeper like Petr Cech of Chelsea FC will show be able to showcase world-class
Full ISO: ( ~ 5.8 GB )
5 X 1GB Links

http://www.megaupload.com/?d=I1T4T430

http://www.megaupload.com/?d=GV4E7RA1


http://www.megaupload.com/?d=XJXVBNIS


http://www.megaupload.com/?d=H6BUH4YD


http://www.megaupload.com/?d=U5O9FUW1


http://www.megaupload.com/?d=H2K1AQSF


http://www.megaupload.com/?d=FPYDRTYR

Password: Silent.Hunter
Full Rip: ( ~ 4.2 GB )
Whats Ripped? : Nothing! Only other languages apart from English are ripped !
5 X 1GB Links
Links are interchangable.
Download after registering as a free user to get fast speed.

http://www.megaupload.com/?d=B2XCI6SH

http://www.megaupload.com/?d=CJ9GZKLS


http://www.megaupload.com/?d=33NZX80L


http://www.megaupload.com/?d=ZIJ0I869


http://www.megaupload.com/?d=BK9CX1JH

Password: Silent.Hunter
Can't download or slow speed ? fix it by installing this Torrent Client - Download
Related Releases: