Red Faction: Guerrilla
Info:
Red Faction: Guerrilla (c) THQ

09/2009 :….. RELEASE.DATE .. PROTECTION …….: Stardock+xlive
1 :………. DISC(S) .. GAME.TYPE ……..: Shooter

Set 50 years after the climactic events of the original Red Faction,
Red Faction: Guerrilla allows players to take the role of an insurgent
fighter with the newly re-established Red Faction movement as they battle
for liberation from the oppressive Earth Defense Force.

Red Faction: Guerrilla re-defines the limits of destruction-based game-play
with a huge open-world, fast-paced guerrilla-style combat, and true
physics-based destruction

Key Features:

* Open World Guerrilla Warfare You decide who, when, where and how to
battle. Utilize guerrilla tactics, improvised weaponry, and modified
vehicles to lead insurgent attacks on EDF targets. Launch attacks based
on your own gameplay style, take on missions in any order you choose, or
engage in destructive activities to weaken the EDFs grip on Mars.
* Strategic Destruction Use destruction to your tactical advantage,
setting ambushes or chain reaction explosions to attack enemy strongholds
and permanently modify the game environment. Leverage fully-dynamic
physics-based destruction to improvise on the fly: blow holes in a wall
or floor to set an ambush or escape, take out a staircase to stop your
pursuers, or drive vehicles through blown out walls.
* Evolving & Emergent Gameplay Carve your path through an ever changing
landscape as you improvise your combat tactics mixing gameplay styles,
vehicles, weapons and explosives to defeat the EDF.
* Epic Sci-Fi Setting Explore the huge, unforgiving Martian landscape,
from the desolate mining outpost of Parker to the gleaming EDF capital
city of Eos; then tear through the fully destructible open-world
environments swarming with EDF forces, Red Faction resistance fighters,
and the downtrodden settlers caught in the cross-fire.
* Multiplayer Combat There is no place to hide when you put your
guerrilla warfare skills to the test in a variety of highly destructive
multiplayer combat modes.

1. Unrar.
2. Burn or mount the image.
3. Install the game.
4. Copy over the cracked content.
5. Play the game.
6. Support the software developers. If you like this game, BUY IT!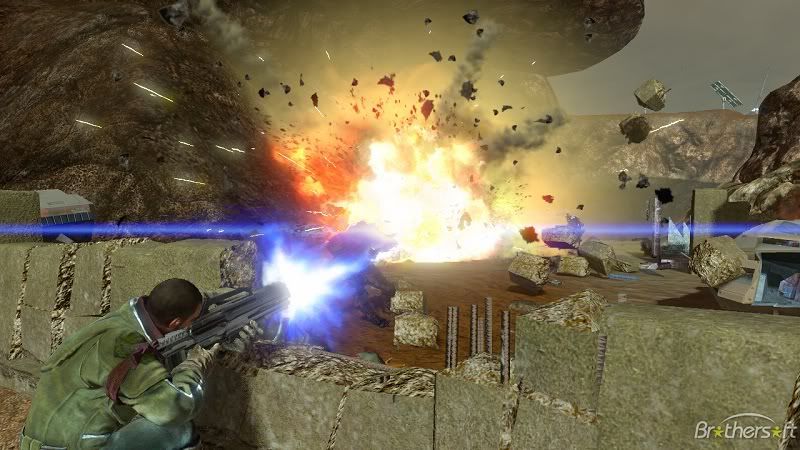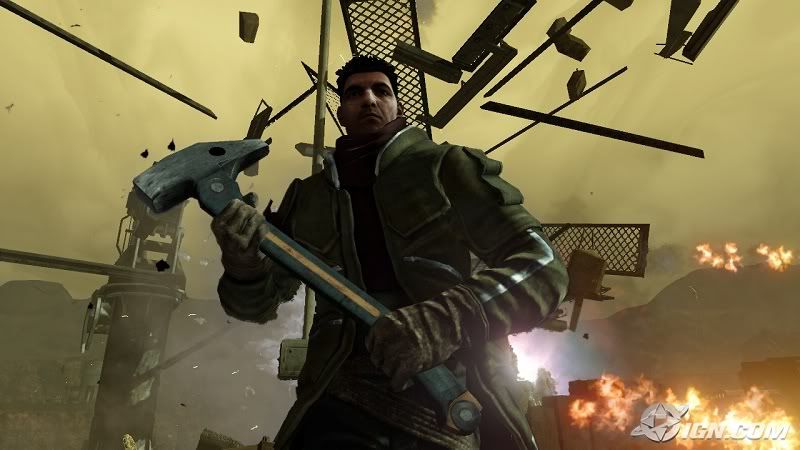 Full ISO: ( ~ 7GB )
7 X 1GB Links

Download after registering as a free user to get fast speed.

http://www.fileserve.com/file/PChBSZR/gbackup_refagu_1gb.part01.rar

http://www.fileserve.com/file/6fQMwkQ/gbackup_refagu_1gb.part02.rar


http://www.fileserve.com/file/mnAr7aw/gbackup_refagu_1gb.part03.rar


http://www.fileserve.com/file/PnBE9Nk/gbackup_refagu_1gb.part04.rar


http://www.fileserve.com/file/TnAbnPy/gbackup_refagu_1gb.part05.rar


http://www.fileserve.com/file/5UeqrFz/gbackup_refagu_1gb.part06.rar


http://www.fileserve.com/file/BbxcKSs/gbackup_refagu_1gb.part07.rar


http://www.fileserve.com/file/xr9BeUW/gbackup_refagu_1gb.part08.rar

Password: Silent.Hunter
Full Rip: ( ~ 4.2GB )
Whats Ripped? : Nothing! Only other languages apart from English & Russian are ripped !
Fix!
Solution to repack running in Russian + how to enable voices + saving problem

To run system menu in English:
Locate file 'langs.dat' in [game folder]\build\pc\cache => Open that file with notepad or other text editor => Delete all entries and type in 'EN' => Save the file

To enable voices:
Go to [game folder]\build\pc\cache => Rename the following files in that folder as follows:
voices_r_RU.vpp_pc => voices_r.vpp_pc
soundheaders_r_RU.vpp_pc => soundheaders_r.vpp_pc
personas_RU.vpp_pc => personas.vpp_pc

The walking problem at the begining of the game:
It is meant to be that way – wait until the end of cutscene

Saving problem:
1) Make sure you have 'My Documents' folder name being in English – if using localized version of Windows, perform the following:
Create 'My Documents' folder (using English language) on main drive => Press 'Start' => Right click on 'My Documents' => Select 'Properties' => Type in the path to the folder created and press the 'Move' button.
2) Make sure that you use local profile (when you create a new profile, you have the option to create an external LIVE profile or a local profile)
3) If (1) and (2) didnt help, go to
Code:
www.microsoft.com/games/en-us/Live/Pages/livemarketplace.aspx

=> Press download => Install the 'gfwlivesetupmin.exe' file downloaded => The issue should be resolved now
4 X 1GB Links

Download after registering as a free user to get fast speed.

http://www.fileserve.com/file/NbBV8Ub/gbackup_refagu_fr_1gb.part1.rar

http://www.fileserve.com/file/YbTMsXa/gbackup_refagu_fr_1gb.part2.rar


http://www.fileserve.com/file/Y25udVe/gbackup_refagu_fr_1gb.part3.rar


http://www.fileserve.com/file/Ru7sb58/gbackup_refagu_fr_1gb.part4.rar


http://www.fileserve.com/file/uZ5cRUU/gbackup_refagu_fr_1gb.part5.rar

Password: Silent.Hunter
Can't download or slow speed ? fix it by installing this Torrent Client - Download
Related Releases: