Sid Meiers Civilization V Gods and Kings
Download Size: 1.08 GB                       
Including Crack FIX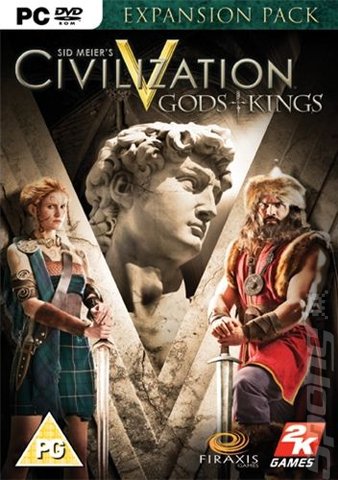 Sid Meier's Civilization V: Gods and Kings is the first expansion pack for Civilization V – the critically acclaimed 2010 PC Game of the Year. This robust expansion covers the entire scope of time from founding your first Pantheon of the Gods and spreading religion across the world, to deploying your spies in enemy cities in order to steal information and technology.
As you move through the ages, youll interact with new types of city-states, engage in new city-state quests and global competitions, and master exciting new systems for land and naval combat. Civilization V: Gods and Kings will also include nine new civilizations, nine new wonders, three original scenarios, and dozens of new units, buildings, and techs that will offer even more ways for players to expand their empire and dominate the world.

Expanded Epic Game: The core game experience has been greatly
expanded with the addition of new technologies (like Combined
Arms), 27 new units (like the new 1-hex ranged unit Machine
Gunner), 13 new buildings (like the Bomb Shelter), and 9
new Wonders (see below). Additionally, there are even
more new units and buildings included in the four new
Scenarios for modders to use
New Civilizations: The expansion will deliver 9 new civilizations,
such as Carthage, Netherlands, the Celts, and the Maya (it is
2012, after all), along with their unique traits, units and
buildings. The expansion also includes 9 new leaders
including William I, Prince of Orange, Boudicca and
Pacal the Great
Religion: A righteous people will seek out Faith to found a Pantheon
of the Gods. As your Faith becomes stronger, you can cultivate Great
Prophets who build on these simple beliefs to create a religion that
you can customize and enhance as desired. Are you tolerant of other
religions or is this the one true faith? Are you focused on Gold,
Arts or Military? Beliefs can even unlock custom buildings that
only people of your religion can construct. Great prophets,
missionaries and inquisitors help you spread your beliefs
to other lands and gain the alliances of City States, and
like-minded civilizations.


Minimum System Requirements:
OS: Windows XP SP3/ Windows Vista SP2/ Windows 7
Processor: Intel Core 2 Duo 1.8 GHz or AMD Athlon X2 64 2.0 GHz
Memory: 2GB RAM
Graphics:256 MB ATI HD2600 XT or better, 256 MB nVidia 7900 GS or better, or Core i3 or better integrated graphics
DirectX: DirectX version 9.0c
Hard Drive: 8 GB Free
Sound: DirectX 9.0c-compatible sound card

Crack Installation:
unpack to folder where you have game and replace all. That's all.
Name and language set in 3DMGAME.ini
just copy and replace all files
voice language is selected in the menu, the language of the text in the file 3DMGAME.ini
Download Links
Total Size:

1.08 GB

Can't download or slow speed ? fix it by installing this Torrent Client - Download
Related Releases: