Beware Planet Earth CRACKED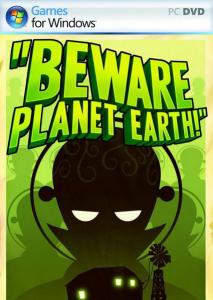 Beware Planet Earth New MULTi5-P2P ( CRACKED )
Beware Planet Earth is a mix between classic tower defense and a time management game. You have to save your cows from Martian invasion, not only by building an effective defense using towers, traps and objects, but also by firing directly your raygun at the green men. With its simple yet deep multitask-based game play and cartoonish art style and animation inspired by cheesy \'50s horror movies, Beware Planet Earth! can appeal to any type of gamer, from teenagers to grown-up female casual gamers to hard-boiled old school gamers. No intricate control scheme here: only a mouse, some simple stragetic thinking and a quick responsiveness are required!

- fast-paced \"tower defense\" game featuring a full Story mode (46 levels) and bonus challenges.
- intense multitasking action using the Zapper and th e Cowbell.
- accessible and progressive yet deep and challenging gameplay; anyone can enjoy it, casual and hardcore gamers alike.
- cheerful and comic cartoon atmosphere, spoofing cheesy \'50s Horror/Sci-Fi movies.
- 20 machines to build, including defense towers, items and traps.
- 18 different Martians, each possessing a unique ability.
- 8 hours of gameplay in the Story Mode, plus 18 additional challenges.
- 4 seasons, each possessing a unique environment, theme music, and gameplay twist.
- 25 achievements.

Beware Planet Earth System Requirements:
- OS: Windows XP / Vista / 7
- Processo 1.8 GHz
- RAM: 512MB
- Video: 128 MB DirectX 9-compatible
- Sound: DirectX 9-compatible
- Free space on HDD: 250 MB


1) Download the torrent.
2) Install the game Via Setup.
3) Update the game with the Patch included.
4) Play and have fun.
Download Links
Total Size:
229.51 MB
Can't download or slow speed ? fix it by installing this Torrent Client - Download
Related Releases: